Aleesa Cohene, Derek Dunlop and Deborah Edmeades: The accursed share
Artspeak, Vancouver, British Columbia, April 2-May 21 2016
Emitting a diffused scent from its place on the floor, Aleesa Cohene's You Dear (2014), initiates entry into Artspeak's space on Carrall Street and presents a quiet reminder that entering this space constitutes crossing a threshold. Every morning, the gallery attendant performs a small rite, releasing scent into the room and activating the exhibition as a slow and sacred space. Cognitively, reality is held together by the performance of small rituals, and the use of smell in particular keeps visitors rooted inside their bodies as they enter the gallery. The smell of Cohene's work is strange and somewhat earthy: it is the smell of Real Ass™, which dissipates throughout the afternoon.
Caught in the overcast light angling in from the storefront windows, a small pile of publications is stacked in the hardwood floor. The black ink on their cardstock covers is mottled and glossy. The eight non-chronological pages of Marina Roy's curatorial essay are creased, but unbound. This printed format is standard for Artspeak, but when placed in conversation with the exhibition, its loose tactility supports Roy's essay as an artwork in and of itself: one which speaks beside the other artworks, rather than speaking about them prescriptively. The writing moves playfully around ideas of excess and affect, sexuality and sacrificial offering, emphasizing the possibility of invoking altered, expanded modes of existence through the creation and presentation of art, and referencing concepts put forward by Elizabeth Grosz, Georges Bataille, and Eric Santner.
Roy has lifted the exhibition's title from George Bataille's La Part Mandite (1949), three philosophical volumes ("Consumption", "The History of Eroticism", and "Sovereignty") that put forward the alternate economic theory of a "general economy", in which actors make use of a networked superabundance of energy, rather than being motivated by scarcity. According to Bataille's thinking, "the possibility of pursuing growth is itself subordinated to giving"1, and Roy's essay works to align art practice with his description of the human desire to form a new world. She makes use of Eric Santner's image of "the fleshy remainder" of ritual sacrifice to better understand the cultural function of art, and proposes that the world's unpragmatic excesses (the accursed share), might work towards sublime experiences of abjection.
Messy intersections of mortal bodies press out of every object in the room, but in different ways. Each object moves at a different time scale, and emphasizes a different bodily sense: small, sight and touch. Piled in a mound that mirrors the curvature of a pregnant human belly, the component parts of You, Dear are also the exact size and shape of seedless grapes: they are made from small ovals of onyx, strung together with galvanized wire entwined in thread. Seen from the corner of an eye, they could be a heady share of treasure, or a pile of wild animal shit; they could be a living room decoration, or an abandoned grocery store purchase. There's a certain discomfort in this kind of misidentification: confusing the boundaries and hierarchies that are used to organize bodies.
The onyx grapes are white and green, with veins of grey that refer to a pair of matte grey picture frames, hanging from the opposite wall. Inside the frames, Deborah Edmeades' multi-panelled drawings, Divination, Chance & Character: tools for the fantastical extension of sensibility (Index) (2016), work to classify a set of 16 objects and actions, granting a mystical status to daily practices like reading and looking. To the right, one of the drawings is physically manifest n the back corner of the room: in Blinking and Other Involuntary Portals (2016), two sparse machines are staring at each other through black viewing portals, their eyelids blinking rhythmically, mechanized by pink crystal pendulums, swinging back and forth. Both works look out inquisitively, and speak through codes of gesture and language. They diagram the unknowns of intersubjective relation, with reference to spiritual mysticism and sleek techno-scientific vocabularies. Their eyeball's irises are gridded like colour wheels, echoing a delineative gesture seen along the bottom edge of two of Derek Dunlop's paintings.
Dunlop's Eternal Return (2015) and M (2015) hang across the room from each other, at a diagonal. The hard-edge character of these grids invokes television test signals, or the colour "control" bars printed on newspapers and cereal boxes, but unlike these ephemeral things, Dunlop's stretched canvas objects have a slow physical presence and long life. Made from oil and acrylic, canvas and pencil, their materials are pulling inward and outward, responding to each other. They sit on top of each other, or they soak in. Recurring gestures of scribbling, scratching and rubbing out are sometimes buried, other times floating at the surface. There's a feeling of both muddy erasure and willful silence. Bullrushes (2015) creates the illusion of a bright pink ground, blotted out with pale pink and maybe ochre, pointing back to the palette used in Edmeades' work
All together, The Accursed Share's proposition is a compelling one. It proposes that by creating a constellation of unsettling, somatic experiences, an exhibition can emphasize the abject confusion of bodies, and in so doing, become a means of evading and surpassing capitalist systems of instrumental experience and accumulation. Here a gallery's space might transcend being a value-added-container for objects-to-be-accumulated, and instead become a quite space for contemplation, where artworks facilitate more sensitive manipulations of human surplus, and invite tactile, introspective forms of looking and listening. The project aspires to transform the space in this way, but ultimately remains ambivalent about its ability to do so. After all, an art gallery is always performing these two opposing functions - and many other functions as well.
sophia bartholomew is an artist based in Fredericton, New Brunswick.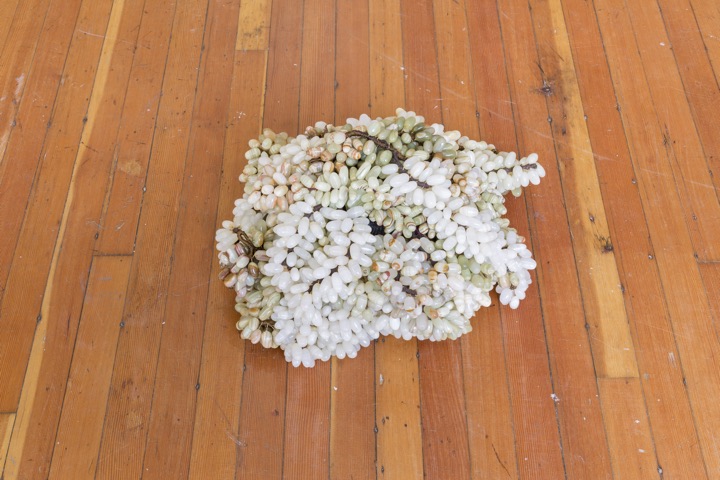 Georges Bataille. The Accursed Share, volume 1: Consumption (New York: Zone Books, 1991), 25-6. Back